Ahma

languages: fin & eng
photo: Eeli Kytömäki
Ahma on toinen studiomme handpoke-artisteista. Hänen lemppariaiheitaan ovat kasvit, eläimet ja kaikki vähän höperö. Ahma on itsekin vähän höperö, ja nimittänyt itsensä Studio Hellän iskävitsivastaavaksi.
Asiakaslähtöisyys on tärkeä osa Ahman työetiikkaa, ja siksi queer-studion perustaminen tuntui erityisen merkitykselliseltä. Ahma aloitti taipaleensa täysiaikaisena yrittäjänä 2019, jolloin hän perusti Ahma Tattoon Pikku Huopalahteen. Söpö ministudio palveli hyvin 1,5 vuotta ennen muuttoa Studio Hellän tiloihin.
Tatuoimisen lisäksi Ahma on sarjakuvataiteilija. Hän toimii osana helsinkiläistä
HEXWILLER
-kollektiivia.
Ahma is one of our two handpoke artists. Their favourite tattoo subjects are plants, animals and everything that is a bit goofy. In general, being goofy is a big part of Ahma, and they are Studio Hellä's self-proclaimed Executive Dad Jokester.
Being customer-friendly plays a big part in Ahma's work ethics and therefore founding a queer studio felt extremely important. Ahma started their career as a full time entrepreneur in 2019 when they founded Ahma Tattoo. The cute little studio was located in Pikku Huopalahti and served well for 1,5 years before Ahma relocated their tattoo station to Studio Hellä.

Besides tattooing, Ahma is also a comics artist. They are part of Helsinki-based HEXWILLER group.
Photo: Lauri Kaivo-oja
Apila (s.1991) aloitti tatuointiuransa 2019 harjoittelulla 69 Tattoossa (nykyään nimeltään Pine Art & Tattoo) Helsingissä.

Apilan tatuointityyli on värikäs ja sarjakuvamainen. Hän rakastaa tatuoida ylisöpöjä olentoja paksujen ääriviivojen kera. Abstraktit tatuoinnit ovat myös Apilan lemppareita.

Tatuointien tekemisen lisäksi Apila on kuvittaja, sarjakuvataiteilija ja graafinen suunnittelija. Apila on kuvittanut paljon (erityisesti lasten ja nuorten) kirjoja eri kustantajille Suomessa (mm. Karisto, Into, S&S, SKS Kirjat).

Apila on opiskellut graafista suunnittelua Aalto-Yliopistossa. Hänellä on Taiteen Kandidaatin tutkinto samasta koulusta.

Apila on alunperin kotoisin Savosta, pienestä Siilinjärven kunnasta. Helsingissä Apila on asunut viimeiset 10 vuotta.


Apila (born 1991) first began their tattooing journey in 2019 as an apprentice in the former 69 Tattoo (now called Pine Art & Tattoo) in Helsinki.


Apila's tattooing style is colourful and cartoony. They love to tattoo super cute creatures with bold lineart. Abstract tattoos are also one of Apila's favourites to tattoo.

In addition to making tattoos Apila is also an illustrator, comics artist & graphic designer. Apila has illustrated loads of book (especially youth and children's novels) for a variety of publishers in Finland.

Apila has studied graphic design in Aalto University and has a Bachelor of Arts degree from the same University.
They are originally from a small town called Siilinjärvi in Eastern Finland but have been living in Helsinki for 10 years now.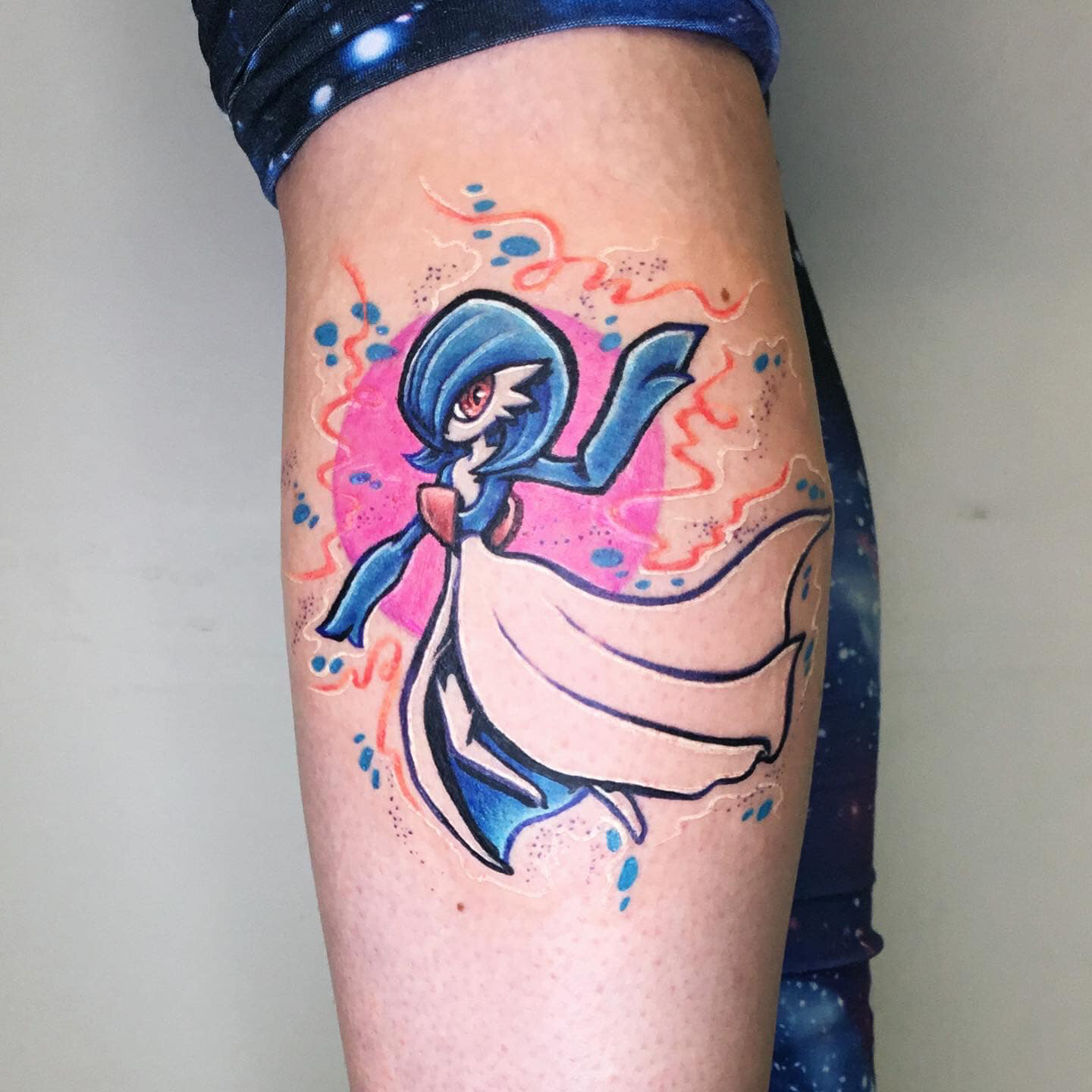 Luka Lykantropia


languages: fin/eng
pronouns: they/he
contact: haley.lykantropia ︎ gmail.com
instagram: @lykantropia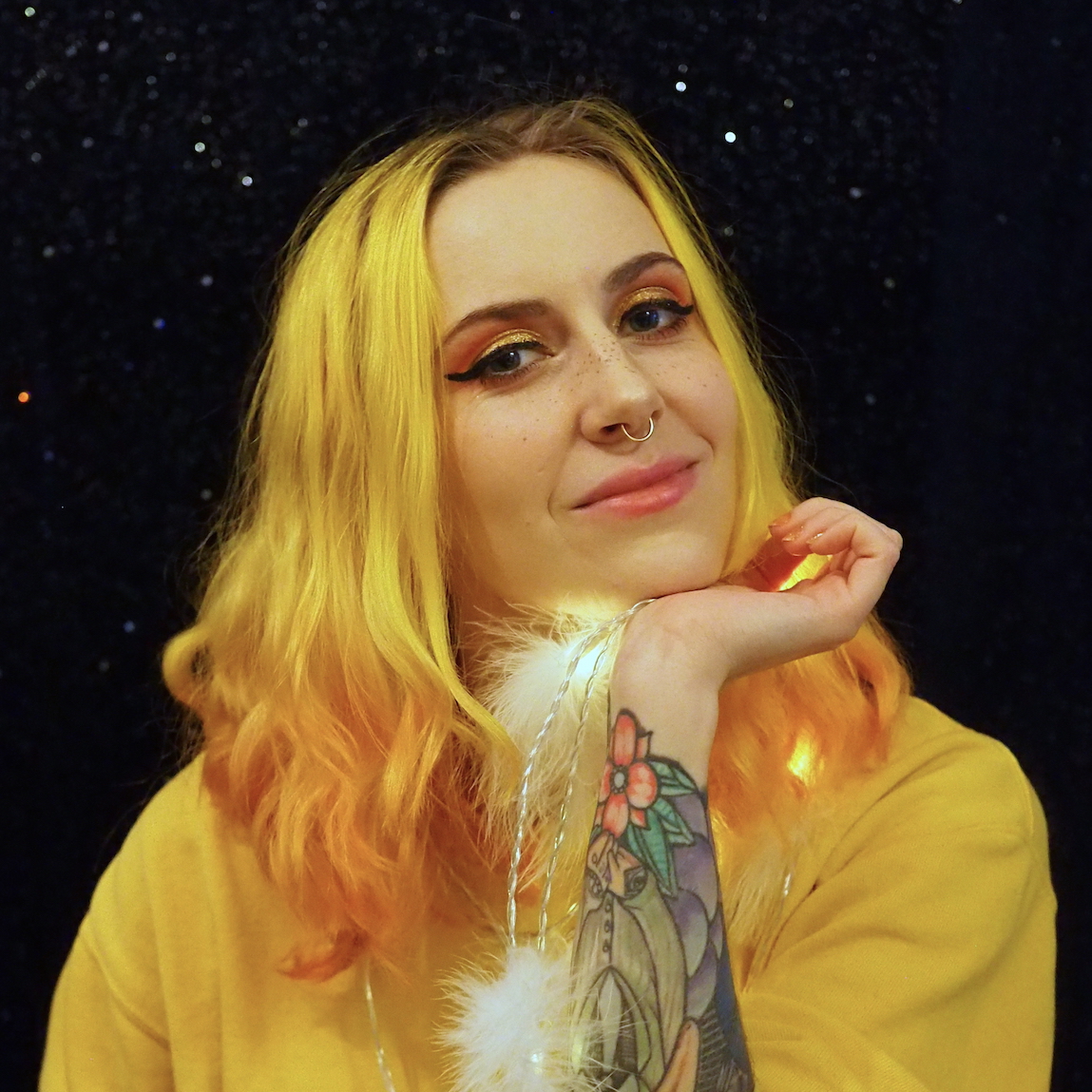 photo: Rakas Saga
Haley pitää erityisesti luontoaiheisten, kuvitusmaisten tatuointien teosta. Kasvit, eläimet, dinosaurukset, kävyt sun muut ovat sydäntä lähellä! Myös queer-aiheiset ja höpsöt, hyväntuuliset tatuoinnit kiinnostavat. Mieluiten hän tekee lineworkin ja dotworkin yhdistelmää. Haley tekee myös kuvituksia ja tilaustyönä lemmikkimuotokuvia, lisäksi hän opiskelee kuvataidekasvatusta. Saatat toisinaan nähdä vilauksen hänestä myös dragissa.

Haley ei tällä hetkellä ota ajanvarauksia vastaan pandemian vuoksi, mutta kuvituksia, tilaustöitä tai muita töitä koskien voit ottaa yhteyttä sähköpostitse haley.lykantropia (at) gmail.com
Haley is fond of making nature-themed, illustrative tattoos. Flora, fauna, dinosaurs, pinecones and whatnots are close to their heart! Also queer-themed and silly, feel-good tattoos interest them. They mostly like doing the combination of linework and dotwork. Haley also makes illustrations and pet portraits as commissions. They also study art education. You might catch them in drag every now and then, too.

Haley's books for tattooing are closed for now because of the pandemic, but you can contact them via e-mail regarding illustrations, commissions or other work at haley.lykantropia (at) gmail.com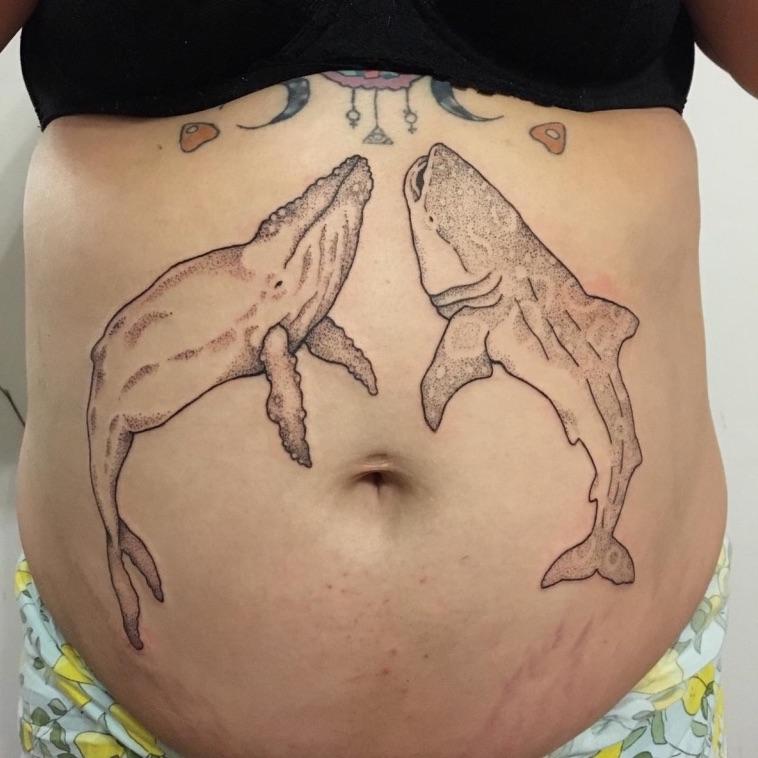 Sasha has been learning to tattoo from our studio's own Ahma Tattoo since late 2019 and started tattooing on people in summer 2020. Until then she's been, and still is, working as an illustrator, jewelry designer, occasional photographer and videographer, podcast host and all around creative person.

Sasha does hand poke tattoos in her clean and simple soft style with bold but minimal color palettes. Her favorite things to tattoo are cats, plants, mushrooms and cute random everyday objects.

Sasha was born in a small city in the Russian part of Sapmi in a Russian-Ukrainian-Jewish family and immigrated to Finland as a teen. She studied audiovisual technology and digital printing, but left the industry to be an artist.


Саша начала учиться делать татуировки у Ahma Tattoo в конце 2019 года и летом 2020 уже делала тату на людях. До этого Саша занималась (и продолжает заниматься) иллюстрацией, дизайном украшений, иногда фотографией и видео, ведением подкаста и другими творческими проектами.

Саша делает татуировки в технике hand poke и в своем мягком и минималистичном стиле, используя смелые, но простые цветовые палитры. Ее любимые темы – растения, котики, грибочки и разные милые повседневные предметы.


Саша родилась в городе Мурманске, в русско-украинско-еврейской семье и эмигрировала в Финляндию в подростковом возрасте. В университете она изучала аудиовизуальные технологии и цифровую печать, но выпустившись, поняла, что хочет заниматься искусством.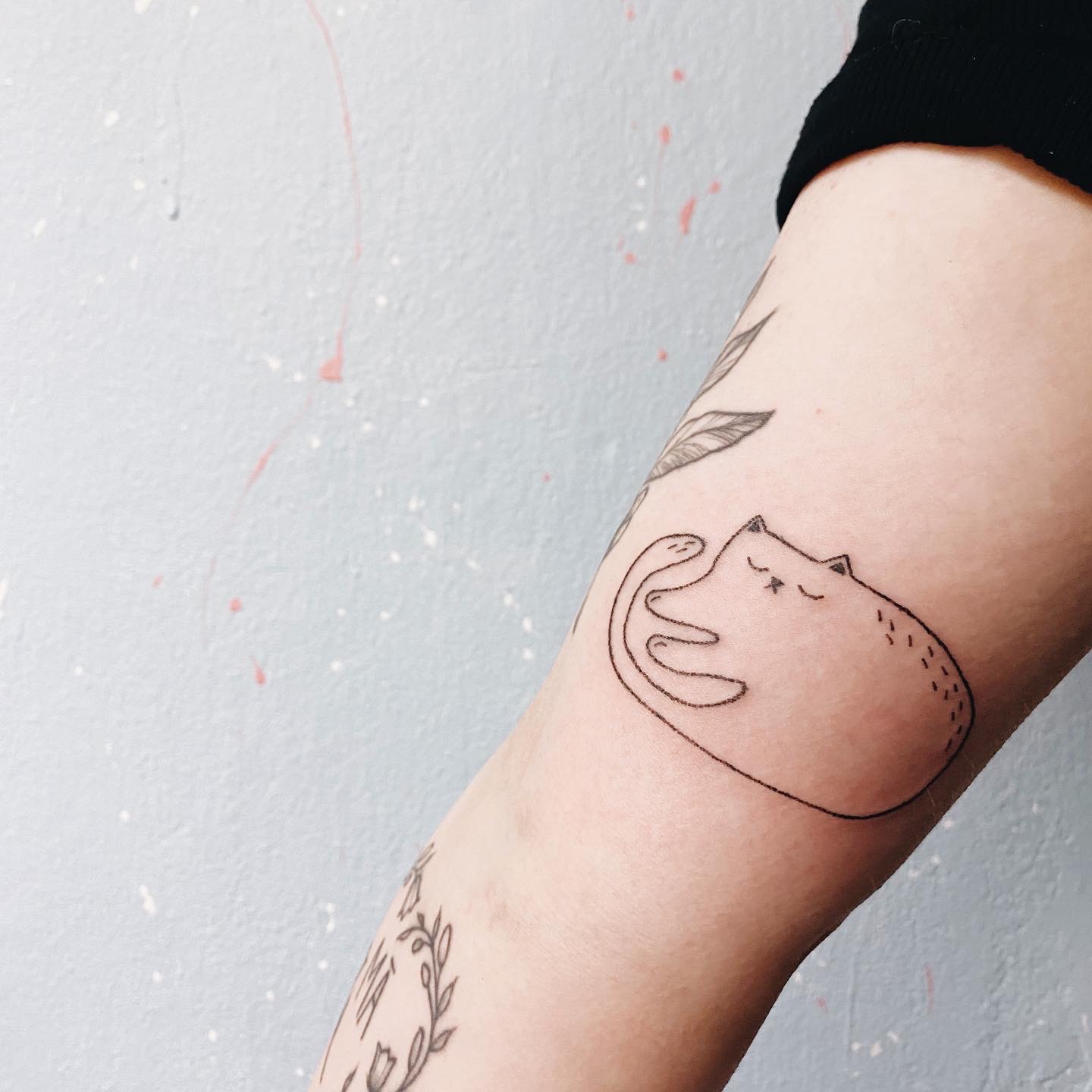 Talvi Kuu Ba'al

languages: ita,eng,jap
pronouns: they/them

contact: tali_baal ︎ outlook.com
Talvi came to Finland in 2015 and began their tattoo apprenticeship in 2016. In 2018 they started to work part-time at Impact Tattoo in Helsinki.

Talvi enjoys traditional style tattoos with bold lines but with a twist. They also enjoys doing more abstract works like brushstroke tattoos.

For Talvi, tattooing means "to create a bond of trust between the tattooer and the customer, as both will work together creating something that will accompany the latter for life".

Another passion of Talvi is the art of Underground Drag. Their drag persona is called Cheesus Crust and has been lurking in Helsinki clubs for a couple of years before corona.

All in all, they love art and all its expressions.

Talvi approdò in Finlandia nel 2015 e iniziò il suo apprendistato nel 2016. Nel 2018, cominciò a lavorare in Impact Tattoo a Helsinki.

A Talvi piace fare tatuaggi tradizionali con un tocco personalizzato ma anche lavori astratti (come ad esempio tatuaggi a "pennellata").

Per Talvi, tatuare significa "creare un legame di fiducia con * client*, con * qual* si lavora insieme creando qualcosa che rimarrà con loro a vita".

Un'altra passione di Talvi è l'arte del Drag. *l su* personaggi* si chiama Cheesus Crust e, prima della pandemia globale, avreste potuto trovarl* ad aggirarsi sui palchi dei club di Helsinki.

Nel complesso, Talvi ama l'arte in tutte le sue espressioni.


Talvi tuli Suomeen 2015 ja aloitti tatuointiharjoittelun 2016. Vuonna 2018 hän alkoi työskennellä osa-aikaisesti Impact Tattoo -studiolla Helsingissä.

Talvi tykkää tehdä traditionaalisia tatuointeja paksuilla viivoilla, mutta pienellä tvistillä. Hän tykkää myös abstraktimpien teosten tekemisestä, kuten pensselillä maalatun näköisistä tatuoinneista.

Talville tatuointien tekeminen tarkoittaa "Luoda luottamus tatuoijan ja asiakkaan välille, koska molemmat työskentelevät yhdessä luomalla jotain, joka seuraa jälkimmäistä koko elämän ajan".

Toinen Talvin intohimo on Underground Drag -taide. Heidän draghahmonsa on nimeltään Cheesus Crust, ja hän on piileskelleet Helsingin klubeissa pari vuotta ennen koronaa.

Kaiken kaikkiaan hän rakastaa taidetta ja kaikkia sen ilmaisuja.